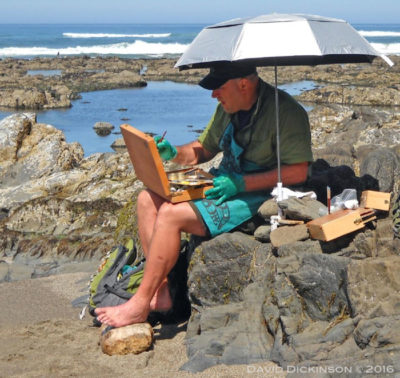 Discover Port Townsend is pleased to present David Dickinson as it's Featured Artist for August 2o16. David, an oil and water color artist, has been drawing and painting steadily since childhood and is largely self-taught aside from the occasional workshop with painters and mentors such as Jef Gunn and Mitchel Albala. David's initial love affair with all things water began as a young boy after a family trip to Montana, where he saw Old Faithful and the Morning Glory Pool, a deep volcanic spring containing many variations of blues and greens.  He really dove into painting watery landscapes some 20 years ago in Olympia, WA where he spent his summer days at local rivers with "good swimming holes". 
David attended Vancouver Film School for Classical Animation in 1999 and worked in the industry for a few years making cartoons, drawing furiously and loving it. His student film was an underwater story with richly painted backgrounds of coral reefs and watery depths. However, when the classical animation wave broke, and digital animation took over, David opted to stay in the Northwest rather than relocating to Los Angeles, New York or other places where the work seemed to be concentrated. Consequently, David took the position of "Market Master" at Pike Place Market in Seattle, WA where he currently works and spends his spare time seeking out the quintessential natural landscapes of the Pacific Northwest, which is his true passion and love. 
"My work is a pursuit of essential aspects of the wild Maritime Pacific Northwest, and a search for powerful locations where deep connection with nature can happen. Pristine water plays an important role, with its ability to restore and sustain on so many levels: physical, emotional, spiritual and metaphoric. Also important are the native light with its uniquely regional palette, the indigenous flora from the mighty to the delicate, and the foundational rock that cradles it all. These images should be experienced as intimate portraits of sacred places  as opposed to pictorial landscapes. I have spent years exploring the Northwest landscape to find the sites that resonate most strongly with my interest, especially the Olympic Peninsula and the Northwest Coast. I paint plein air studies in oil and in watercolor, make sketches and shoot countless photos. Final larger works are done in the studio. With no intention of creating abstract paintings, more and more I find myself drawn into the abstract image behind, or underpinning, the composition before me. Therein resides the mysterious power of the work that defies verbal description and is best conveyed by marks and pigment."
David Dickinson, 2016
Amongst other accolades, David is the subject of an interview with The Nature Conservancy, which gives additional insight into his artistic vision and work.
Below is sampling of David's colorful depictions of his favorite rivers. Please also visit his website for further information and thank you David for sharing your wonderful paintings with Discover Port Townsend!