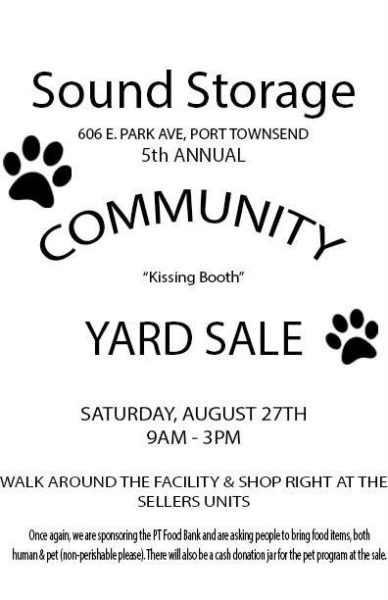 Sound Storage, located at 606 E. Park Avenue, Port Townsend, is holding it's 5th annual community yard sale and fundraiser on Saturday, August 27, 2016 from 9-3. There will be a silent auction with items donated from local businesses, and over a dozen Sound Storage customers will have their units open for sales. 
This year, as in previous years, Sound Storage is sponsoring the Port Townsend Food Bank and Animal Food Bank. They're asking people to bring food items for both humans and pets (non-perishable please). The Food Bank has requested protein-based items, if possible, but any donation is welcome. "Most of us are aware of our local food bank, but are unaware of the pet portion of the service. When you make a monetary donation to the food bank and request that it specifically go to pet supplies, that money will be used to purchase dog/cat and other animal foods and supplies," says Crickett Webster, Facility Manager at Sound Storage. "The PT Food Bank struggles to keep enough food supplies on hand for our neighbors in need and their pets. Your donations are seriously needed and greatly appreciated."
Cash donations will be accepted for the pet program on the day of the sale. This is a wonderful opportunity for you to get involved and help the good folks at Sound Storage to help the community in need. Last year over $1,000 was raised and a substantial amount of food items and pet supplies were donated. This year we can do even better with your help!
If you have any questions, please contact Crickett Webster at ptsoundstorage@gmail.com or call (360) 379-0545.
For all your storage needs, check out Sound-Storage.com, with five locations serving Port Townsend, Friday Harbor and Bremerton.